Cisco SD-WAN Powered by Meraki
The world's most trusted SD-WAN provider

What is SD-WAN?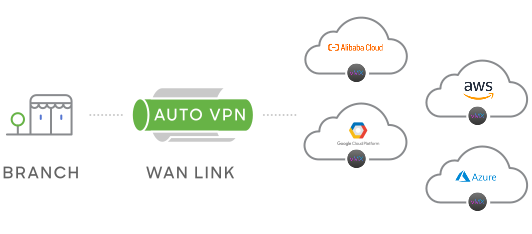 Software-defined wide area networking (SD-WAN) is a software-based approach for businesses to utilize and manage more than one external network connection such as MPLS, broadband, and fiber optic at a given location based on its performance.
With SD-WAN, network admins can define which WAN link an application should use, or set up rules for which link should be used based on its performance.
What can SD-WAN help achieve?

Reduce dependence on MPLS
Take advantage of low-cost WAN links such as broadband and fiber to significantly reduce your WAN costs with the Meraki MX appliances that can be quickly deployed at scale with true zero-touch provisioning.

Maximize user experience
Cisco SD-WAN powered by Meraki delivers end-to-end visibility through advanced analytics with machine learning and smart path selection to assure experience for business-critical applications no matter where they are hosted—SaaS, IaaS, or the data center.
SD-WAN Products
Cisco Meraki MX Cloud-Managed Security Appliances


Centrally Managed Security, Networking & Application Control
The MX hardware platform is purpose-built for cloud management, with CPU and memory resources designed to provide application and content-aware security at the edge. The MX's robust platform enables advanced features like layer 7 application traffic shaping, content filtering, antivirus/antiphishing, and site-to-site VPN, while providing the throughput and capacity for modern, high-density networks.
Supreme visibility with advanced end-to-end analytics
Monitor key factors that influence how office or remote/home users experience business-critical resources and identify the root cause of any degradation in minutes.

Web Application Health
At-a-glance performance of critical applications across your LAN, WAN, and application server—wherever it is.

WAN Health
Monitor ALL of your organization's diverse uplinks, including cellular, and home-user uplinks, in one view.

VoIP Health
Track VoIP quality by provider and uplink with detailed hop-by-hop analysis.
Why SD-WAN powered by Meraki?
The simplest SD-WAN available
True zero-touch provisioning allows the quickest and simplest way for organizations to significantly reduce their total WAN costs and deliver the desired level of performance for VoIP and business critical cloud applications—no matter where they are hosted.
Natively secure SD-WAN
Natively integrated advanced security that includes next-gen layer-7 firewall, Cisco AMP with Threat Grid, Cisco SNORT IDS/IPS, cloud security with Cisco Umbrella SIG, and content filtering—to confidently allow direct Internet access.
Advanced analytics
Supreme visibility into key factors that influence how users experience business-critical resources to identify any degradation and its root cause in a matter of minutes.
Unified management platform
Streamline IT operations with management of SDWAN as well as wireless, switching, security, cellular, end-point management, and smart security cameras into a single intuitive and centralized platform.
Read to learn more