Cisco Meraki Power
AC Adapter & PoE Injector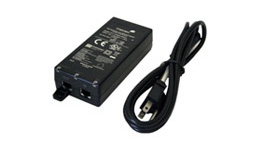 Cisco Meraki Products
Power PoE Injector
Cisco Meraki Gigabit 802.3at Power over Ethernet Injector (Power Cord Not Included)
#MA-INJ-4-US
List Price:
$200.08
Our Price: $133.45
Cisco Meraki Low Voltage 12VDC/24VAC Input PoE Injector for MV Cameras
54 V DC, 430 mA Output - 1 x 1000Base-T Input Port(s) - 1 x PoE Output Port(s) 24VAC Input PoE Injector for MV
#MA-PWR-MV-LV
Our Price: $294.54
The Cisco Meraki PoE Injector allows delivery of both data and power to a Meraki access point over a single Ethernet cable, allowing deployment of devices exactly where they are needed to provide the best wireless coverage and at much lower installation cost. This PoE injector is specifically designed to meet the power needs of Cisco Meraki 802.3at-compatible devices. Check the access point specifications to ensure compatibility.
Features & Benefits
Easy Installation
Use Power Over Ethernet to supply power (and optionally data) to Cisco Meraki 802.3at compatible devices. Ethernet cable is inexpensive and easy to install. Simply plug the AC adapter into the side of the Cisco Meraki PoE injector, then plug ethernet cable into the PoE port and route that cable to your 802.3at-compatible device. To add a wired data connection, plug the data ethernet cable into the LAN port on the Meraki PoE Injector.
Technical Specifications
Power

Input Voltage: 100 to 240 VAC
Input Current: 0.8A maximum
AC Input Frequency: 50-60 Hz
Maximum Output Power: 30 W
Powered device can be up to 100m away from power injector

Data
Compatible with 10/100/1000 Mbit/s Ethernet, full duplex
Environmental

Operating Temperature: (32 to 104°F (0 to 40°C)
Storage Temperature: (-4 to 158°F (-20 to 70°C)
Operating Humidity: 5 to 93%

Additional Features
Short-circuit protection
Physical Dimensions

6.3" x 2.1" x 1.4" (160 mm x 52.5 mm x 35.5 mm)
Weight: 0.46 lb (210 g)

Mounting
Mounts to walls (anchors and screws not included)
Compatibility

Complies with 802.3at standard
Backward compatibility with 802.3af MR-series access points

LED Indicators

Input Power
Fault
Detect/connected to valid 802.3at load