Cisco Meraki MT14

Cloud-managed indoor air quality sensor
Health and comfort are major priorities. Make them happen by keeping a close eye on indoor air quality.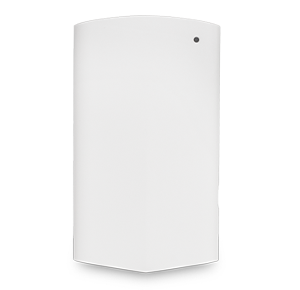 Cisco Meraki Products
Indoor Sensors
Cisco Meraki MT14 Indoor Air Quality Sensor
#MT14-HW
List Price:
$401.00
Our Price: $267.47
Enterprise License and Support
Meraki MT Enterprise License and Support, 1 Year
#LIC-MT-1Y
List Price:
$150.53
Our Price: $100.40
Meraki MT Enterprise License and Support, 3 Years
#LIC-MT-3Y
List Price:
$301.05
Our Price: $200.80
Meraki MT Enterprise License and Support, 5 Years
#LIC-MT-5Y
List Price:
$451.58
Our Price: $301.20
Meraki MT Enterprise License and Support, 7 Years
#LIC-MT-7Y
List Price:
$632.21
Our Price: $421.68
Meraki MT Enterprise License and Support, 10 Years
#LIC-MT-10Y
List Price:
$903.15
Our Price: $602.40
Click here to jump to more pricing!
Overview:
Indoor air quality has become increasingly more important to schools, businesses, and other organizations as they look to create smart, sustainable buildings that provide safe and comfortable environments. Poor air quality, on the other hand, can decrease productivity or cause adverse health effects ranging from mild to severe.
The Cisco Meraki MT14, part of the Meraki MT sensor portfolio, provides real-time indoor air quality monitoring to promote smart spaces and create safe environments. MT14 can detect the presence of chemicals, debris, extreme temperature, humidity, and noise. If air quality decreases for any reason, MT can notify you immediately or automate the building HVAC system to increase ventilation and keep people safe.
Smart sensors. Smarter businesses.
Meraki MT sensors accelerate deployment, simplify management, and provide data-driven business outcomes. Flexible mounting, battery or wired power options, and automatic Bluetooth® pairing make it easy to provision thousands of sensors in a short amount of time. Centralized cloud management enables MT sensors to be managed alongside other networked devices, while open APIs allow MT to integrate with any business system.
Product highlights
Temperature sensor range from 0°C to 55°C (32°F to 131°F)
Humidity sensor range from 0% to 95% relative humidity
TVOC sensor range up to 10,000 µg/m2
PM2.5 sensor range up to 1,000 µg/m2
Ambient noise sensor range from 20 to 120 dBA
Features:
Smart spaces start here
Identify anomalies and trends with visualizations and minute-by-minute data reporting
Create a smarter, more sustainable future with Meraki energy-saving charts
Never miss an event
Stay in-the-know with real-time alerts via email, SMS, push notification, or webhook
Gain complete visibility by associating sensor events with MV camera footage
Monitor and troubleshoot on-the-go with the Meraki mobile app
Cloud-first architecture
Cloud-based management eliminates the need for on-premises servers
Visibility alongside other Meraki products on the dashboard empowers lean teams
Simple and secure connectivity
Accelerate deployment with automatic wireless connectivity to MR/MV gateways
Secure your business with authentication and encryption from the Cisco Trust Anchor module
Analytics tailored to your business
Build applications custom for your business through the vast partner ecosystem
Analyze data your way with .csv, .xls, API, or MQTT export options
MT14 specifications:
Sensors
Temperature
Range: 0°C to 55°C (32°F to 131°F)
Accuracy: +/- 0.3°C
Humidity
Range: 0% to 95% RH
Accuracy: +/- 2.5% RH
Total volatile organic compound
Excellent: <300 µg/m2 Good: 300 to 1,000 µg/m2 Fair: 1,000 to 3,000 µg/m2 Poor: 3,000 to 10,000 µg/m2 Inadequate: ≥ 10,000 µg/m2 Accuracy: within 1 qualitative range
Particulate matter
(PM 2.5)
Range: 0 to 100 µg/m2
Accuracy: +/- 10 µg/m2

Range: 100 to 1,000 µg/m2
Accuracy: +/- 10% measured value
Ambient noise
20 to 120 dBA
Wireless capabilities
Bluetooth® Low Energy
Compatible with MV smart cameras and MR access points
Operating frequency
2.400–2.4835 GHz
IEEE standard
802.15.1 (Bluetooth® Low Energy 4.2)
Data logging
Data sampling
Temperature: every two minutes
Humidity: every two minutes
PM 2.5: every five minutes
TVOC: every 90 seconds
Ambient noise: every five minutes
Data reporting to gateway
Every 20 minutes or immediately upon threshold violation
Onboard data storage
Up to five days of data storage
Security
Secure Bluetooth® Low Energy messaging using long-term key (LTK)
Power
Four AA batteries or USB-C power adapter
Battery life up to two years
Power ratings: 5V; 0.2A
Physical characteristics
Dimensions: 130.0 mm (L) x 75.4 mm (W) x 31.6 mm (H)
Battery compartment
Multicolor, multifunction status LED
General-purpose button
Reset button
USB-C port (receptacle connector)
Operating environment
Temperature: 0°C - 55°C (32°F - 131°F)
Relative humidity: 0-95%
Warranty
Three-year hardware warranty with advanced replacement
In the box
MT14-HW
Quick-start and installation guide
Four AA batteries (preinstalled with pull tab)
8ft (2.4M) Water Leak Detection Cable (MA-CBL-LEAK-1)
Mounting equipment
Wall-mount backplate
Magnet
VHB tape
Two mounting screws
Two drywall anchors
Pricing Notes:
Pricing and product availability subject to change without notice.
Cisco Meraki Products
Indoor Sensors
Cisco Meraki MT14 Indoor Air Quality Sensor
#MT14-HW
List Price:
$401.00
Our Price: $267.47
Enterprise License and Support
Meraki MT Enterprise License and Support, 1 Year
#LIC-MT-1Y
List Price:
$150.53
Our Price: $100.40
Meraki MT Enterprise License and Support, 3 Years
#LIC-MT-3Y
List Price:
$301.05
Our Price: $200.80
Meraki MT Enterprise License and Support, 5 Years
#LIC-MT-5Y
List Price:
$451.58
Our Price: $301.20
Meraki MT Enterprise License and Support, 7 Years
#LIC-MT-7Y
List Price:
$632.21
Our Price: $421.68
Meraki MT Enterprise License and Support, 10 Years
#LIC-MT-10Y
List Price:
$903.15
Our Price: $602.40
Cisco Meraki Accessories
Cisco Meraki AC power adapter for MV and MT
#MA-PWR-USB-US
List Price:
$42.83
Our Price: $28.57