Cisco Meraki MS120-8

Cloud Managed Switching for the Small Branch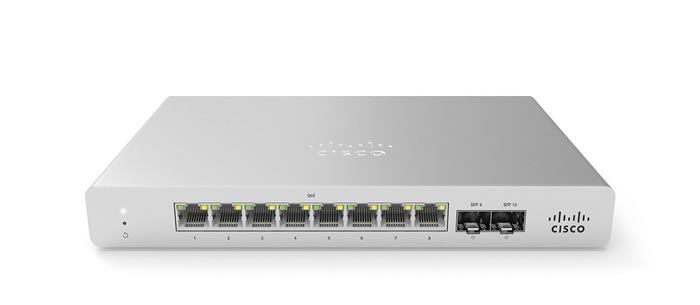 Cisco Meraki Products
Access Switches
Meraki MS120-8 1G L2 Cloud Managed 8x GigE Switch
#MS120-8-HW
List Price:
$972.00
Our Price: $648.32
Cisco Meraki Licenses and Support - 8 Port Gigabit Ethernet Switch
Meraki MS120-8 Enterprise License and Support, 1 Year
#LIC-MS120-8-1YR
List Price:
$47.16
Our Price: $31.46
Meraki MS120-8 Enterprise License and Support, 3 Year
#LIC-MS120-8-3YR
List Price:
$106.37
Our Price: $70.95
Meraki MS120-8 Enterprise License and Support, 5 Year
#LIC-MS120-8-5YR
List Price:
$176.62
Our Price: $117.81
Meraki MS120-8 Enterprise License and Support, 7 Year
#LIC-MS120-8-7YR
List Price:
$247.86
Our Price: $165.32
Meraki MS120-8 Enterprise License and Support, 10 Year
#LIC-MS120-8-10YR
List Price:
$354.24
Our Price: $236.28
Click here to jump to more pricing!
Overview:
Cloud-Managed Compact Switches
Cisco Meraki MS120-8 compact switches provide Layer 2 access switching in a fanless, compact form factor. All models include 1GbE SFP ports for fiber uplink, integrated mounting brackets, and a Kensington security slot, making them ideal for rapid and secure deployment to branch location.
Cisco Meraki switches are built from the ground-up to be easily managed without compromising any of the power and flexibility traditionally found in enterprise-class switches.
Meraki switches are managed through an elegant, intuitive cloud interface, rather than through command line. To set up a Meraki switch, just plug it in; there's no need for complicated configuration files or even direct physical access to the switch.
Meraki's centralized management gives administrators deep visibility into the network and how it's used. For example, you can quickly see which switches are near capacity across hundreds of sites, or find all configuration changes made by a member of the team with instant search.
Industry-Leading Cloud Management
Cloud management has a number of benefits that make it easier to build networks large and small:
True zero-touch device provisioning
Virtual Stacking: manage up to thousands of ports from a single pane of glass
Application-layer visibility with automatic operating system, client, and hostname fingerprinting
Powerful live tools such as packet capture and cable test to isolate and troubleshoot network issues
Alerts to indicate power loss, downtime, excessive Layer 1 issues, and configuration changes
Role-based administration and automatic, scheduled firmware upgrades over the web
Regular feature updates and enhancements delivered on demand from the Meraki cloud
Product Highlights
Gigabit Access switching with 8 x 1GbE RJ45 ports and optional PoE/PoE+
2 x 1G SFP uplink interfaces on all models
Fanless operation
20Gbps non-blocking compact switch
67/124 watt PoE budget with PoE+ support and dynamic power allocation for powering access points, phones, cameras, and other PoE-enabled devices
8 dedicated QoS queues for converged voice, video, and data applications
Integrated mounting brackets for wall or desk mounting, with included Kensington security slot
Lifetime hardware warranty and advanced replacement at no additional cost
Pricing Notes:
Pricing and product availability subject to change without notice.
Cisco Meraki Products
Access Switches
Meraki MS120-8 1G L2 Cloud Managed 8x GigE Switch
#MS120-8-HW
List Price:
$972.00
Our Price: $648.32
Cisco Meraki Licenses and Support - 8 Port Gigabit Ethernet Switch
Meraki MS120-8 Enterprise License and Support, 1 Year
#LIC-MS120-8-1YR
List Price:
$47.16
Our Price: $31.46
Meraki MS120-8 Enterprise License and Support, 3 Year
#LIC-MS120-8-3YR
List Price:
$106.37
Our Price: $70.95
Meraki MS120-8 Enterprise License and Support, 5 Year
#LIC-MS120-8-5YR
List Price:
$176.62
Our Price: $117.81
Meraki MS120-8 Enterprise License and Support, 7 Year
#LIC-MS120-8-7YR
List Price:
$247.86
Our Price: $165.32
Meraki MS120-8 Enterprise License and Support, 10 Year
#LIC-MS120-8-10YR
List Price:
$354.24
Our Price: $236.28
Cisco Meraki Accessories
Cisco Meraki AC Power Cord for MX and MS (US Plug)
For Security Device, Network Switch - 120 V AC
#MA-PWR-CORD-US
List Price:
$28.06
Our Price: $18.72
Rack mount Kit for Cisco Meraki MS120-8 and MS120-8LP
#RM-CI-T3
List Price:
$139.00
Our Price: $134.00