Cisco Meraki MG41

Cloud Managed Cellular Gateway
CAT 18 Cellular Connectivity with Integrated Antennas
Availability: Starting July 6, 2021
Cisco Meraki Products
Cellular Gateway
Cisco Meraki MG41 CAT 18 Cellular Connectivity with Integrated Antennas
*Please Note: Cisco Meraki Enterprise license purchase required for each AP. Antennas are sold separately.
#MG41-HW
List Price:
$1,392.58
Our Price: $928.85
Enterprise Cloud Controller Licensing and Support
Cisco Meraki MG41 Enterprise License and Support, 1 Year
#LIC-MG41-ENT-1Y
List Price:
$483.19
Our Price: $322.29
Cisco Meraki MG41 Enterprise License and Support, 3 Year
#LIC-MG41-ENT-3Y
List Price:
$966.37
Our Price: $644.57
Cisco Meraki MG41 Enterprise License and Support, 5 Year
#LIC-MG41-ENT-5Y
List Price:
$1,449.56
Our Price: $966.86
Click here to jump to more pricing!
Overview:
The Meraki MG41, part of the MG cellular gateway family, enables high-speed, always-on reliable network connectivity for business-critical operations and a hybrid workforce through cellular deployments with gigabit primary or backup cellular uplinks.
MG41: Superfast, resilient connectivity anywhere
MG41 can instantly provision primary cellular connectivity across thousands of sites at once without waiting on broadband or any change in infrastructure, enabling faster business expansion.
Deliver primary gigabit connectivity with MG41 or pair with Meraki MX and SD-WAN to allow for the optimal bandwidth management needed for today's cloud-first organizations.
With gigabit-level backup cellular connectivity, businesses can rely on MG41 for a consistent experience 24/7/365 to increase business uptime and network resilience.
MG41 allows businesses to confidently deploy primary gigabit cellular at sites where there's no broadband coverage, the carrier coverage is initially unknown, or there's a varying level of availability and network reliability from multiple regional carriers.
The dual SIM gives the flexibility to switch to a better performing carrier network through auto-SIM failover or switch to the other carrier when either of the SIM reaches the data cap.
MG41 Product Highlights
Built-in CAT 18 connectivity
Supports two separate downstream router connections
Small form factor
PoE or DC powered
IP67 rating
Manageability from the Cisco Meraki dashboard
Self-configuring cellular gateway
Automatic firmware upgrades with scheduling control
Extensive API support
Email, SMS, and mobile push notification alerts
Ping, traceroute, cable testing, and link failure detection with alerting
Remote packet capture
Combined event and configuration change logs with instant search
Self-configuring, plug-and-play deployment
Sleek, low profile design
Built-in CAT 6 LTE connectivity
IP67 rated for environments of all types
Features:
Product Highlights
Hardware
Sleek form factor
x1 CAT 18 Integrated Cellular up to 1.2Gbps
x2 nano (4FF) SIM card slots
x2 GbE ports
Multi-surface mounting bracket for attachment to walls, ceilings, or poles
IP67 rated for environments of all types
Internal antenna
Supports up to 5 simultaneous carrier aggregation (5CA)
Supports popular bands like B14 (FirstNet), B48 (CBRS), B66 and B71
Supports private LTE
Power
Use cases
Primary cellular connectivity
Failover cellular connectivity
Cloud-based centralized management
Managed centrally over the web
Zero-touch, self-provisioning deployments
Remote troubleshooting tools
Secure, user-scheduled firmware updates
Remote visibility of key cellular information: IMEI, ICCID, APN, RSRP, RSRQ
Auto-SIM failover
Configuring APN and other cellular parameters available via dashboard
Alerts
Cloud APIs
All MG configuration settings executable via APIs
Self-configuring, cellular primary
If a certified carrier SIM card is inserted, the MG41 brings up the cellular connection and automatically connects to the Meraki cloud, downloads its configuration, and joins your network.
Industry-leading cloud management
Meraki's award-winning cloud-management architecture unifies LAN and management under a web-based dashboard and scales easily from small to large multi-site deployments with tens of thousands of devices. The Meraki dashboard provides intuitive yet powerful role-based administration, firmware updates, configuration changes, email alerts, and easyto-audit change logs.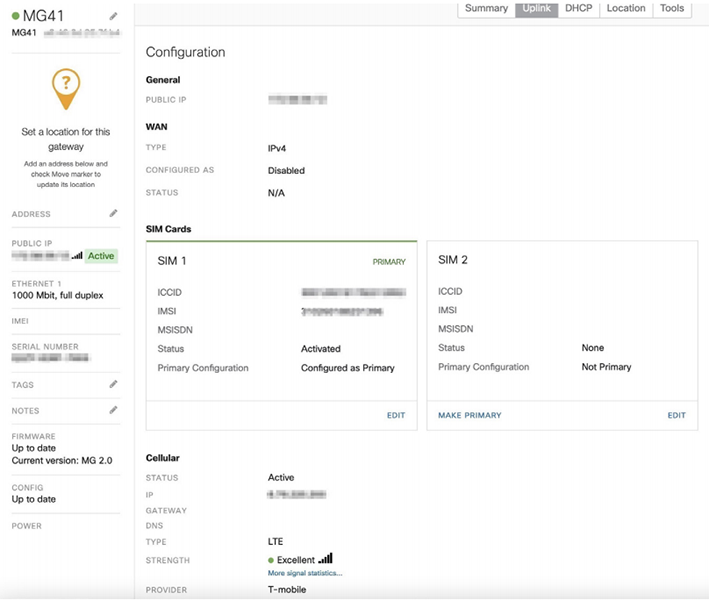 Local Status Page (LSP)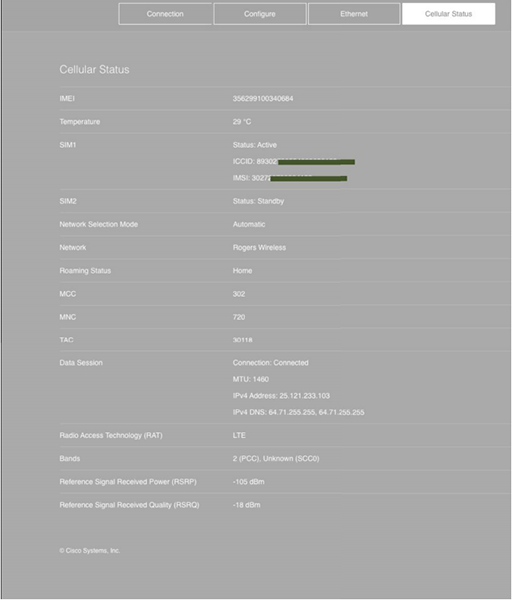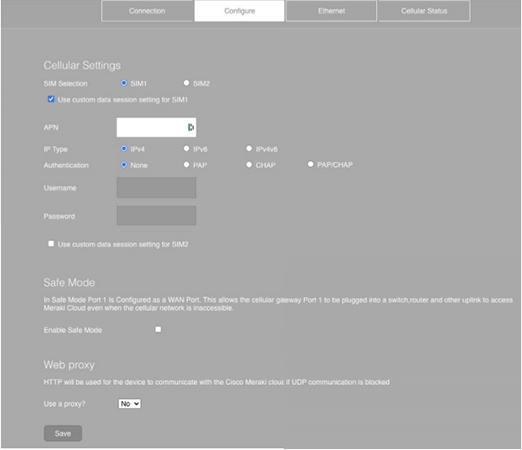 MG41 specifications:
Performance
1.2 Gbps Downlink (DL)/ 150 Mbps Uplink (UL)
Interfaces
2 * PoE IN
LAN interfaces: 2 x GbE
1 x CAT 18 LTE integrated cellular
Monitoring and Reporting
Throughput, connectivity monitoring
Org-level change logs for compliance and change management
Environmental Specifications
Power: 12V/1A, 48-57V DC/0.35A
Operating temperature: -22°F to 122°F (-30°C to 50°C)
Humidity: 5 to 95% non-condensing
IP67 environmental rating
Desktop or wall mount or ceiling mount (all standard mounting hardware included)
Remote Diagnostics
Live remote packet capture
Real-time diagnostic and troubleshooting tools
Management
Managed via the web using the Meraki Cloud Controller
Single pane of glass management of wired and wireless networks
Zero-touch remote deployment (no staging needed)
Automatic firmware upgrades and security patches
Centralized policy management
Org-level two-factor authentication and single sign-on
Role based administration with change logging and alerts
Integrated Cellular
Support for major bands: 2, 4, 5 ,12, 13, 14, 48, 66, 71 *Refer to the datasheet for the full list
1.2 Gbps Downlink (DL)/ 150 Mbps Uplink (UL)
Additional regulatory information: PTCRB (US), RCM (ANZ, APAC), GCF (EU)
Supported UICC/SIM
Regulatory
FCC (US)
CB (IEC)
CISPR (Australia/New Zealand)
PTCRB (North America)
RCM (Australia/New Zealand, Asia Pacific)
GCF (EU)
Warranty
Full lifetime hardware warranty with next-day advanced replacement included.
Pricing Notes:
Pricing and product availability subject to change without notice.
Cisco Meraki Products
Cellular Gateway
Cisco Meraki MG41 CAT 18 Cellular Connectivity with Integrated Antennas
*Please Note: Cisco Meraki Enterprise license purchase required for each AP. Antennas are sold separately.
#MG41-HW
List Price:
$1,392.58
Our Price: $928.85
Enterprise Cloud Controller Licensing and Support
Cisco Meraki MG41 Enterprise License and Support, 1 Year
#LIC-MG41-ENT-1Y
List Price:
$483.19
Our Price: $322.29
Cisco Meraki MG41 Enterprise License and Support, 3 Year
#LIC-MG41-ENT-3Y
List Price:
$966.37
Our Price: $644.57
Cisco Meraki MG41 Enterprise License and Support, 5 Year
#LIC-MG41-ENT-5Y
List Price:
$1,449.56
Our Price: $966.86
Cisco Meraki Accessories
Cisco Meraki AC Adapter for MR Wireless Access Points (US Plug)
#MA-PWR-30W-US
Our Price: $38.94
Cisco Meraki Gigabit 802.3at Power over Ethernet Injector
#MA-INJ-4-US
Our Price: $200.08