Cisco Meraki MG21E

CAT6 Cellular Modem with External Antennas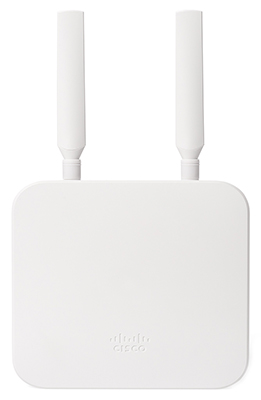 Cisco Meraki Products
Cellular Gateway
Cisco Meraki MG21E CAT6 Cellular Modem with External Antennas
*Please Note: Cisco Meraki Enterprise license purchase required for each AP. Antennas are sold separately.
#MG21E-HW-NA
List Price:
$1,096.86
Our Price: $731.61
Enterprise Cloud Controller Licensing and Renewal Licensing
Cisco Meraki MG21 Enterprise License and Support, 1 Year
#LIC-MG21-ENT-1Y
List Price:
$225.00
Our Price: $150.08
Cisco Meraki MG21 Enterprise License and Support, 3 Year
#LIC-MG21-ENT-3YR
List Price:
$483.19
Our Price: $322.29
Cisco Meraki MG21 Enterprise License and Support, 5 Year
#LIC-MG21-ENT-5YR
List Price:
$724.78
Our Price: $483.43
Cisco Meraki MG21 Enterprise License and Support, 7 Year
#LIC-MG21-ENT-7YR
List Price:
$1,014.69
Our Price: $676.80
Cisco Meraki MG21 Enterprise License and Support, 10 Year
#LIC-MG21-ENT-10YR
List Price:
$1,449.56
Our Price: $966.86
Click here to jump to more pricing!
Overview:
Connectivity is critical for any organization that depends on reliable internet access in order to function. Wireless WAN connectivity options, such as cellular networks, serve as a reliable backup internet uplink in the event of a primary uplink failure.
The MG21 cellular gateway simplifies the path to wireless WAN connectivity and makes cellular a viable uplink option for many networks. The MG21 acts as a gateway to cellular networks by converting LTE signal from a cellular provider to an Ethernet handoff, which can be used as an internet uplink for a variety of use-cases.
MG21E Highlights
Hardware
Sleek, low profile form factor
x1 CAT6 cellular modem - up to 300Mbps
x1 nano SIM card slot
x2 GbE ports
Multi-surface mounting bracket for attachment to walls, ceilings, or poles
x2 dipole antennas included (high gain patch antenna available separately)
IP67 rated for environments of all types
Power
Use cases
Primary cellular connectivity
Failover cellular connectivity
Cloud-based centralized management
Managed centrally over the web
Zero-touch, self-provisioning deployments
Remote troubleshooting tools
Secure, user-scheduled firmware updates
Remote visibility of key cellular information: IMEI, ICCID, APN, RSRP, RSRQ
Cloud APIs
All MG configuration settings executable via APIs
Features:
Centralized Management
Seamlessly manage thousands of cellular gateways across distributed locations from a single-pane-of-glass.
IP67 Rated
MG Cellular Gateways are suitable for outdoor use having been tested for dust and moisture.
Cellular Modem
Integrated CAT6 cellular modem with up to 300Mbps.
Multiple Mounting Options
A multi-surface mounting bracket (included) allows for simple attachment to a wall, ceiling, pole, or tabletop.
Internal & External Antennas
The external models include dipole antennas and a patch antenna is available as an accessory to improve signal strength with directional focus.
Dual Power Options
The option to power cellular gateways by DC or PoE.
Nano SIM Card Slot
Simply insert a certified carrier nano SIM card for cellular connectivity.
Cellular Telemetry
Remotely monitor key cellular information such as cellular modem ID and signal strength. See data sheet for full list.
Solutions: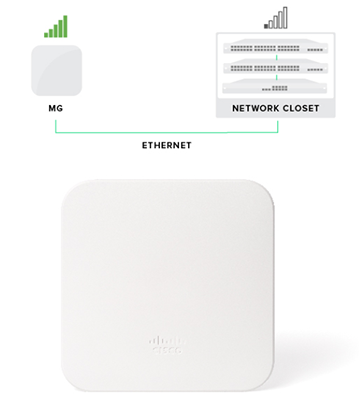 Make Cellular a Reality
Cisco Meraki MG Cellular Gateways seamlessly transpose a wireless cellular signal to wired Ethernet for primary or failover connectivity.
MG is built on the industry's most trusted cloud infrastructure backed by over 10 years of experience supporting nearly half a million customers globally, including numerous deployments in excess of 20,000 locations.
Zero Touch Provisioning Out-of-the-Box
Centrally Managed
Scales to Thousands of Locations

Optimized for Cellular
Meticulously designed to optimize cellular signal strength, the MG Cellular Gateway can be readily positioned away from the often weak cellular conditions of the network closet to near a window or even outdoors.
Multi-surface mounting bracket
Enables installation to a wall, ceiling, pole, or tabletop
Suitable for outdoor use and harsh environments
IP67 rated: tested for dust and moisture
External antennas
MG models are available that support high-gain, directional antennas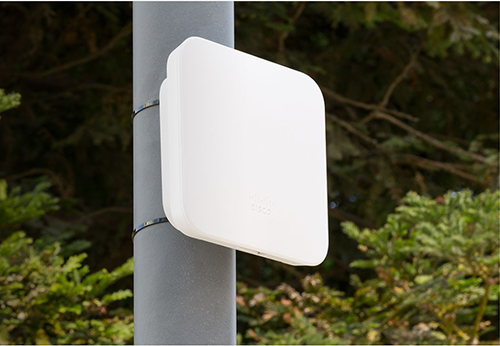 Built to Fit In
The MG Cellular Gateway effortlessly slots into your existing infrastructure, regardless of what it may be.
Pair the MG with any router downstream to deliver primary or failover cellular support.

Ready for a Unified Experience
Meraki Cellular Gateways are managed from an elegant and intuitive centralized interface that extends to the entire Meraki IT portfolio. Whether you're starting your Meraki journey with MG or continuing it with adding to your existing Meraki deployment, you're investing in a proven platform that's ready to offer you unprecedented visibility and management.
In just a few clicks, navigate through your organization's cellular gateways, SD-WAN, security, wireless, switching, endpoint management, and smart security cameras.
Proven Scalability
MG Cellular Gateways scale to organizations of all sizes: from single-site deployments to tens of thousands of locations.
MG has the highest API coverage of any product we've ever launched enabling effortless provisioning and configuration changes across large multi-site deployments.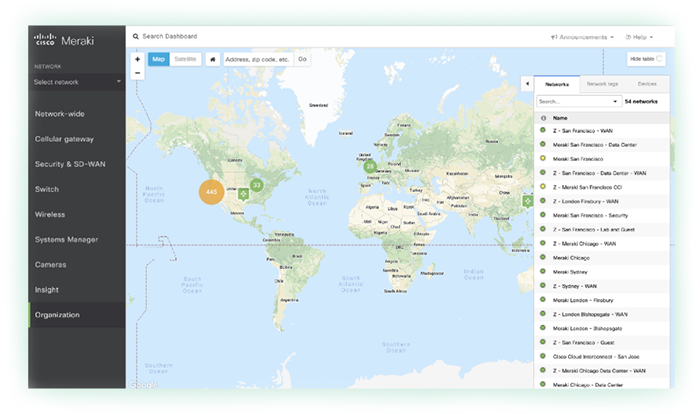 Use Cases:
Antenna placement where cellular coverage is best
Signal strength is key for cellular performance. The MG21 makes cellular a viable option in situations where the best location for the MX is not necessarily the best location for a strong cellular signal. The separation of cellular antenna and MX expands cellular options for all networks, particularly for mid-range MXs mounted in a data center.
Primary WAN
In areas where wired internet services are not available, the MG21 provides a simple, viable option for wireless WAN connectivity.
Secondary WAN for Failover
An MX's secondary WAN interface connected to an MG21 may use the cellular network in the event of a primary uplink failure.
Secondary WAN for SD-WAN
An MX with an MG21 as a secondary WAN uplink may use the cellular network to establish VPNs for SD-WAN.
High Availability Uplink
The MG21 can be used as either a primary or secondary internet uplink for MX HA topologies. Its two LAN ports allow the MXs to share access to the same cellular network.
Note that the following use-cases refer to using a Meraki MX appliance with the MG21 as a WAN uplink. However, the use-cases can also apply to non-Meraki devices.
Specifications:
Performance
300 Mbps CAT 6 LTE integrated modem
Interfaces
1 * PoE IN
LAN interfaces: 2 x GbE
1 x CAT 6 LTE modem for cellular connectivity
Monitoring and Reporting
Throughput, connectivity monitoring
Org-level change logs for compliance and change management
Environmental Specifications
Power: 12V/1A, 48-57V DC/0.35A
Operating temperature: 4°F to 113°F (-20°C to 45°C)
Humidity: 5 to 95% non-condensing
IP67 environmental rating
Desktop or wall mount or ceiling mount(all standard mounting hardware included)
Remote Diagnostics
Live remote packet capture
Real-time diagnostic and troubleshooting tools
Management
Managed via the web using the Meraki Cloud Controller
Single pane of glass management of wired and wireless networks
Zero-touch remote deployment (no staging needed)
Automatic firmware upgrades and security patches
Centralized policy management
Org-level two-factor authentication and single sign-on
Role based administration with change logging and alerts
Integrated Cellular
LTE bands: (North America) 2,4,5,12,13,17,29. (Worldwide*) 1,3,5,7,8,18,19,20,26,28
300 Mbps CAT 6 LTE
Additional regulatory information: PTCRB (US), RCM (ANZ, APAC), GCF (EU)
Supported UICC/SIM
Dimensions and Weight
165.7 x 160.45 x 34.45mm (w x d x h)
489g
Regulatory
FCC (US)
CB (IEC)
CISPR (Australia/New Zealand)
PTCRB (North America)
RCM (Australia/New Zealand, Asia Pacific)
GCF (EU)
Warranty
Full lifetime hardware warranty with next-day advanced replacement included.
Pricing Notes:
Pricing and product availability subject to change without notice.
Cisco Meraki Products
Cellular Gateway
Cisco Meraki MG21E CAT6 Cellular Modem with External Antennas
*Please Note: Cisco Meraki Enterprise license purchase required for each AP. Antennas are sold separately.
#MG21E-HW-NA
List Price:
$1,096.86
Our Price: $731.61
Enterprise Cloud Controller Licensing and Renewal Licensing
Cisco Meraki MG21 Enterprise License and Support, 1 Year
#LIC-MG21-ENT-1Y
List Price:
$225.00
Our Price: $150.08
Cisco Meraki MG21 Enterprise License and Support, 3 Year
#LIC-MG21-ENT-3YR
List Price:
$483.19
Our Price: $322.29
Cisco Meraki MG21 Enterprise License and Support, 5 Year
#LIC-MG21-ENT-5YR
List Price:
$724.78
Our Price: $483.43
Cisco Meraki MG21 Enterprise License and Support, 7 Year
#LIC-MG21-ENT-7YR
List Price:
$1,014.69
Our Price: $676.80
Cisco Meraki MG21 Enterprise License and Support, 10 Year
#LIC-MG21-ENT-10YR
List Price:
$1,449.56
Our Price: $966.86
Cisco Meraki Accessories
Cisco Meraki AC Adapter for MR Wireless Access Points (US Plug)
#MA-PWR-30W-US
Our Price: $38.94
Cisco Meraki Gigabit 802.3at Power over Ethernet Injector
#MA-INJ-4-US
Our Price: $200.08